His Majesty's Treasury in Luschia is by a considerable margin the most efficiently run governmental department, a well-oiled machine of financial wizardry, and yet many a tranquil evening the Chancellor of the Exchequer and the Minister to the Treasury find themselves without work. So, instead of simply retiring home, they snuggle up on a couch and watch a classic Hollywood film, popcorn; soda; hotdogs; and nachos in hand.
On Sunday night Chancellor Adams and Treasury Minister Paltrow treated themselves to that most self-indulgent and escapist of movies -
Gilda
(1946, Charles Vidor). A brilliant
noir
,
Gilda
is a haven of razor-sharp dialogue and crackling chemistry, the definitive performance from Hollywood's erstwhile queen Rita "Instead of a rattle I had castanets" Hayworth. Hayworth is Gilda, a sultry
femme fatale
who marries creepily camp casino grandee Ballin Mundson (George Macready) - and discovers that his trusted aide Johnny Farrell (Glenn Ford) is her old flame. From there it is a sizzling picture, the finest moment of which is undoubtedly Hayworth's performance of
Put the Blame on Mame
. This movie is heartily recommended to all Duetarian men and women of culture.
Hayworth and Ford in Gilda
Hayworth performing
Put the Blame on Mame
Is it possible, however, that Adams and Paltrow surpassed even
Gilda
(which is probably more of a man's film...) with
The Awful Truth
(1937, Leo McCarey). The screwball comedy
par excellence
, this piece of featherweight frothy fun is an undisputed masterpiece of acting from the debonair Cary Grant and elegant Irene Dunne. The two leading stars divorce over a bizarre misunderstanding and end up fighting for custody of their adorable dog Mr Smith (now a Geography teacher at King Edward's School Birmingham). But when Lucy (Dunne) lands on her feet first by stepping out with Oklahoma bumpkin Daniel Lesson (Ralph Bellamy), Jerry (Grant) realises what a mistake it was letting his witty, willowy ex go... What follows is a pitch-perfect battle-of-the-sexes, with Grant and Dunne waging a war of hard to get tactics and temptations. By its end, only a wind-buffeted door and an ambidexterous cat (?). The jewel in the crown of romcoms, and quite possibly the finest performance ever from Cary Grant!
Irene Dunne gains temporary custody of beloved pooch Mr Smith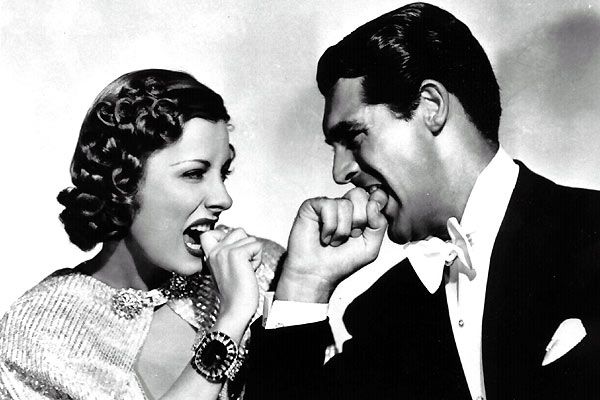 Comedy royalty Dunne and Grant go head to head, no regrets!
MP




Posts

: 79


Join date

: 2008-03-16


Age

: 52


Location

: A Gothic Mansion in LA

Nation Statistic sheet


Military Strength

:


(0/1000)



We thank you for your insight madam. I look forward to seeing more from you
Admin




Posts

: 474


Join date

: 2008-03-15


Age

: 26


Location

: Behind you

Nation Statistic sheet


Military Strength

:


(0/1000)



Why do you adore film so much?
Lord




Posts

: 279


Join date

: 2008-05-09


Age

: 26


Location

: Wherever I am, it cannot be real. I am present, but were am I?

Nation Statistic sheet


Military Strength

:


(0/1000)



"Why do I adore film so much?" exclaims Chancellor Adams, "How can anyone not? Its depth of expression and art, the multitudinous varities of its form, the rich metaphorical possibilties - film is a medium unlike any other, Grand Nomad! Partly because, of course, of the pure personalities that it encompasses; literature is a marvel as well, but its writers are writers, by nature of profession introspective and philosophical -"

At this, novelist Sir Henry Tonks, effetely sipping a venti mocha frappuccino (no whip) utters a sound of disgust and disagreement.

"- but film stars are living personalities, idols, confidantes - the glamour that surrounds them is a true force of magnetism to films, for where in the world of literati would one find a Lana Turner, a John Wayne, a Catherine Deneuve or a Paul Newman?" Adams finishes, her blue eyes filled with emotion, clutching Lloyd's sleeve.

"Then again, just watching a film for Irene Dunne does have its own merits," comments Tonks thoughtfully.
MP




Posts

: 79


Join date

: 2008-03-16


Age

: 52


Location

: A Gothic Mansion in LA

Nation Statistic sheet


Military Strength

:


(0/1000)



(even though I'm wearing a black long sleeve), I wear short sleeves most of the time, oh dear, it started to rhyme!
Lord




Posts

: 279


Join date

: 2008-05-09


Age

: 26


Location

: Wherever I am, it cannot be real. I am present, but were am I?

Nation Statistic sheet


Military Strength

:


(0/1000)




---
Permissions in this forum:
You
cannot
reply to topics in this forum